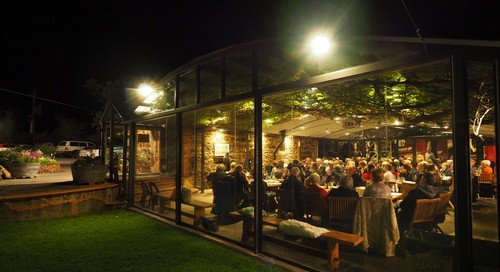 poets and pizza
6pm - July 15 - Coriole Vineyards
Coriole has been celebrating and supporting South Australian poets since 2005 with the Poets and Pizza event.
Come indulge in a raucous evening of poetry, great company, wood fired pizza and wines by Coriole.
about the poets
Rachael Mead is a South Australian novelist and poet. She's the author of the novel The Application of Pressure (Affirm Press 2020) and four collections of poetry including The Flaw in the Pattern (UWAP 2018). Her second novel The Art of Breaking Ice will be published in July this year. In the 2022 Adelaide Festival Awards for Literature, she was awarded the Barbara Hanrahan Fellowship and her poetry was short-listed in the unpublished manuscript section. In 2019, she spent a month in Northern Italy on an eco-poetry residency awarded by Australian Poetry to write poems about grass, cows and cheese.
Kalicharan Nigel Dey was born in London in 1951. He has received formal full-time education on four continents. His highest academic achievement is BA Honours in Asian Studies. There is only one activity he claims to be professional standard at, and that is acting. He worked as a professional actor for nearly twelve years, plus seven Christmas seasons at Myers City Centre as Santa Claus. Writing poetry was a major hobby of his from 1990 to 2020 and he has had numerous poems published. His only hobby these days, aside from meditation, yoga, and tai chi, is playing the piano, which he has been doing ever since his first piano lesson at the age of thirteen. He may be heard every Wednesday at the central concourse of the RAH playing the hospital's grand piano, trying to soothe the feelings of worried patients and visitors and stressed staff.
Louise Nicholas was born in Port Lincoln, South Australia. She was a primary school teacher for over forty years, 25 of them in Loxton. Her publications include four chapbooks: The Smear Test, Haven't you had it yet?; The Mammogram; and Large WomanSpeak, co-written with Jude Aquilina; Large; The List of Last Remaining; and Meet My Mother. She has been a guest speaker and reader at many festivals, conferences and community events and helped secure a victory for the affirmative when "Poetry is Better Than Sex" was debated (in rhyming verse) at the Canberra Spring Poetry Festival.
Bruce Greenhalgh was born somewhere other than Adelaide some time ago. His hobbies include collecting chronic sporting injuries (minor, but frustrating), switching off lights to save electricity, feeling morally superior on discovering the misuse of apostrophes and looking down the backs of sofas for loose change and poetic inspiration. In 2018 he was a winner of Friendly Street's New Poets competition and his poems have appeared in the Weekend Australian, inDaily, Ariel Chart, Rue Scribe, The Mozzie, Spank the Carp, Adelaide Literary Magazine and in various anthologies.