50 Years of Coriole
2019 is a special year for us here at Coriole. The oldest vines on the estate are producing their century vintage - the vineyards that source some of our best shiraz were planted in 1919. We are celebrating 50 years of our family business, 50 years of our original contour hill plantings, 30 years of Lloyd Reserve Shiraz, 30 years of olive oil production, and 40 years of Mark Lloyd at the helm. All of these milestones are cause for reflection, reminiscence and celebration.
Hugh and Molly Lloyd's story
In 1969, Hugh and Mary Kathleen (Molly) Lloyd produced their first wine at Coriole. Half a century later Coriole Vineyards is a third-generation family business. The first sales were in the old barn, and now wine goes around Australia and to 17 countries.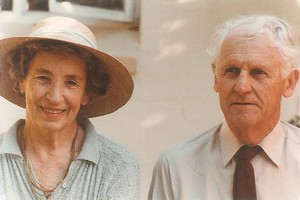 Hugh and Molly had broad interests. Hugh was a GP and Molly raised five children – Ann, Guy, Mark, Tim and Paul. Together they were passionate about farming - first cattle and almonds - music, art, politics and literature.
Mark Lloyd, now Coriole's General Manager, believes that Hugh and Molly may have come into the wine industry a bit by chance. "I remember stories of my father making wine in the bath at home! But I think it was about finding the right property, and then realising the potential.
"This was a time when new wineries were being established in McLaren Vale. Greg Trott who almost out-bid Hugh and Molly for the new enterprise, went on to create Wirra Wirra. A few other wineries started around the same time as Coriole in McLaren Vale, but before that, you probably have to go back 60, 100 years in the region. So, the time was right. To people that embraced wine and had agricultural interests, like my parents, it seemed fitting. Suddenly, here was something that was exciting to do – a challenge I guess."
Hugh Lloyd had been raised in a teetotal Adelaide family.
Coriole's business manager and Hugh and Molly's youngest son, Paul Lloyd, says: "Dad's father, Arthur Benjamin Lloyd (Benji), just like his father before him, Thomas Arthur Lloyd, was a Methodist Minister. Apparently alcohol didn't rate that highly in the Methodist church." (Although there was a tradition of Methodist families growing grenache in McLaren Vale and claiming that they were producing alcohol for medicinal purposes!)
Together, Hugh and Molly laid the strong foundations for Coriole. Hugh embarked on a constant development plan for the winery and vineyard, using the old shiraz vines to establish the reputation for the business.
They employed a winery manager in Graham Stevens, who came from d'Arenberg. "My father's research and theoretical approach was a good partnership with Graham who was very practical, experienced and had a great sense of quality. The two things came together and they had amazing success", says Mark.
Tim Lloyd remembers: "We did a little of the pruning, and at harvest time joined the picking teams, which in those days were locals, mostly housewives, who spent a month in the field. They worked hard, gossiped all day, and introduced young people like me to all sorts of goings on and hanky panky in the district!"
In 1979, Mark Lloyd returned to McLaren Vale from England with his wife Anne, and took over Coriole after Graham Stevens had moved on to start his own business. Mark and Anne raised their family at Coriole and Mark set about making his own impact on the Coriole wine story.
"The tradition of Coriole was shiraz, cabernet and grenache, so that's what we would do in the 70s, but in the 80s I became interested in other varieties, particularly Italian varieties. We decided to plant Sangiovese. It was the only one available on the market and growth was slow at first. We went on to plant other varieties such as Barbera, Nero and Fiano. We have come to refer to these wines as The New Australian Collection. Now these varieties and their wine style is in great demand."
In 1989 Coriole released its first olive oil. Mark's interest in olive oil was sparked by a winter in Greece in the 1970s where he worked in several olive oil factories. Independently Primo Estate and Coriole released a premium oil under their wine labels. This, in part, was the beginning of the rebirth of the Australian olive oil industry.
A natural evolution was hosting arts events at Coriole, which reflects Hugh and Molly's traditions, on a scale that they would love.
Coriole has seen everything from in-house dancing, parties and meals, to festivals like Sea and Vines and the Coriole Music Festival, and performances like Shakespeare in the Vines, Poets and Pizza and Opera in the Vines.
Mark says "We are lucky to be able to take these things out of the places where they are traditionally performed, and put them into a beautiful landscape."
Ann Lloyd Wilson, who inherited her mother's garden, agrees that Hugh and Molly's values are upheld at Coriole today. "I think if Hugh and Molly came here today they would be extremely pleased, because we're all involved with it still. It's nice to have that connectedness. And that was really what they were about."
Click here to find out about events celebrating 50 years of Coriole: www.coriole.com/50
Click here to see more historical images from Coriole's past.