1989 - 2016 Lloyd Reserve Shiraz tasting - conducted on 17th March 2019
In preparations for our 50th birthday we recently tried all vintages of our flagship wine, Lloyd Reserve Shiraz from 1989 – 2018. It seemed fitting that the 2019 was fermenting away in tank 100 years after the vineyard was planted.
There was no 2003 or 2017 made and we couldn't find a single bottle of 1998, but aside from that we had the full collection. It was a truly enjoyable tasting with many surprises along the way. A delight to see the vintage variations and hear Mark's comments as he recalled every vintage, and described any challenges or highlights in the vineyard or the winery for each wine.
The 2016, which will be released in October, is looking fantastic although only 300 cases were made - please let us know if you are interested to receive a pre-release offer for this wine as it is likely to sell out quickly. Email: [email protected].
Below are some very brief notes on the tasting and approximate drinking windows.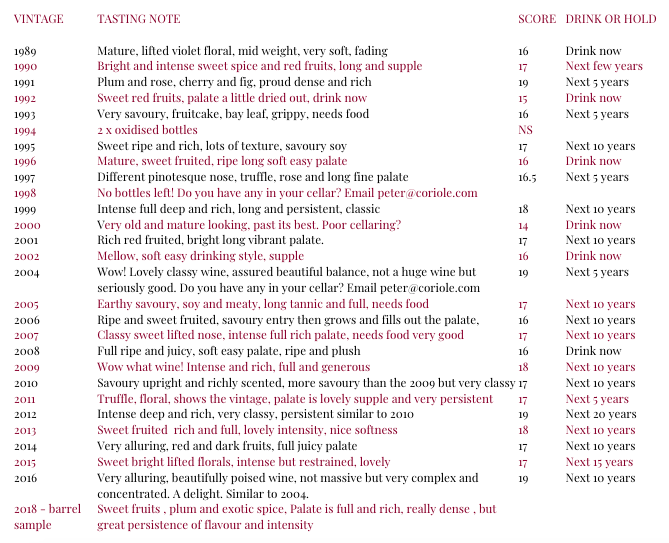 Why no 2017?
Although 2017 has been heralded as one of the great vintages of the last decade we choose not to bottle a Lloyd Shiraz from 2017.
The wine was declassified into our 2017 Estate Shiraz which goes without saying is superb! The Lloyd Shiraz vineyard is planted on deep rich soils at the bottom of our hillside.
The rainfall in 2017 gave this vineyard too much of a good thing and the fruit although in pristine condition didn't have the intensity to make the very top grade. As Duncan's first vintage it was a hard decision but ultimately made for the right reasons.