HANDEL'S L'ALLEGRO
L'Allegro, il Penseroso ed il Moderato is an English oratorio/pastoral ode with four singers, baroque orchestra, and choir. This exquisite work is based on the poems of John Milton and first performed in 1740.
The magazine Gramophone in 2021 described L'Allegro as "Contemplative ecstasy with a pantheistic sense of wonder and delight in the natural world".
Presented in association with Big Sing McLaren Vale.
The performance lasts for approximately 2 hours including interval.
Saturday 18th December at 5:30pm - Guests are welcome to bring a picnic to enjoy after the performance. Coriole wine will be available by the glass and bottle over the bar.
Sunday 19th December at 3:00pm - The Coriole restaurant and Arbour bar are open prior to the performance. We suggest making a reservation.
Conductor - Alex Roose
Soprano 1 - Brooke Window
Soprano 2 - Desiree Frahn
Tenor - Kim Worley
Bass - Jeremy Tatchell
With Baroque Orchestra of 14 players and the Fleurieu Singers.
LOCATION
Coriole Winery Barrel Shed
Coriole Vineyards
79 Chaffeys Road, McLaren Vale SA 5171
This year these performances take the place of Handel's Messiah
CONTACT DETAILS
CONTACT EVENT ORGANISER - [email protected] - 0403 057 700
Tickets $45 pp - BOOK NOW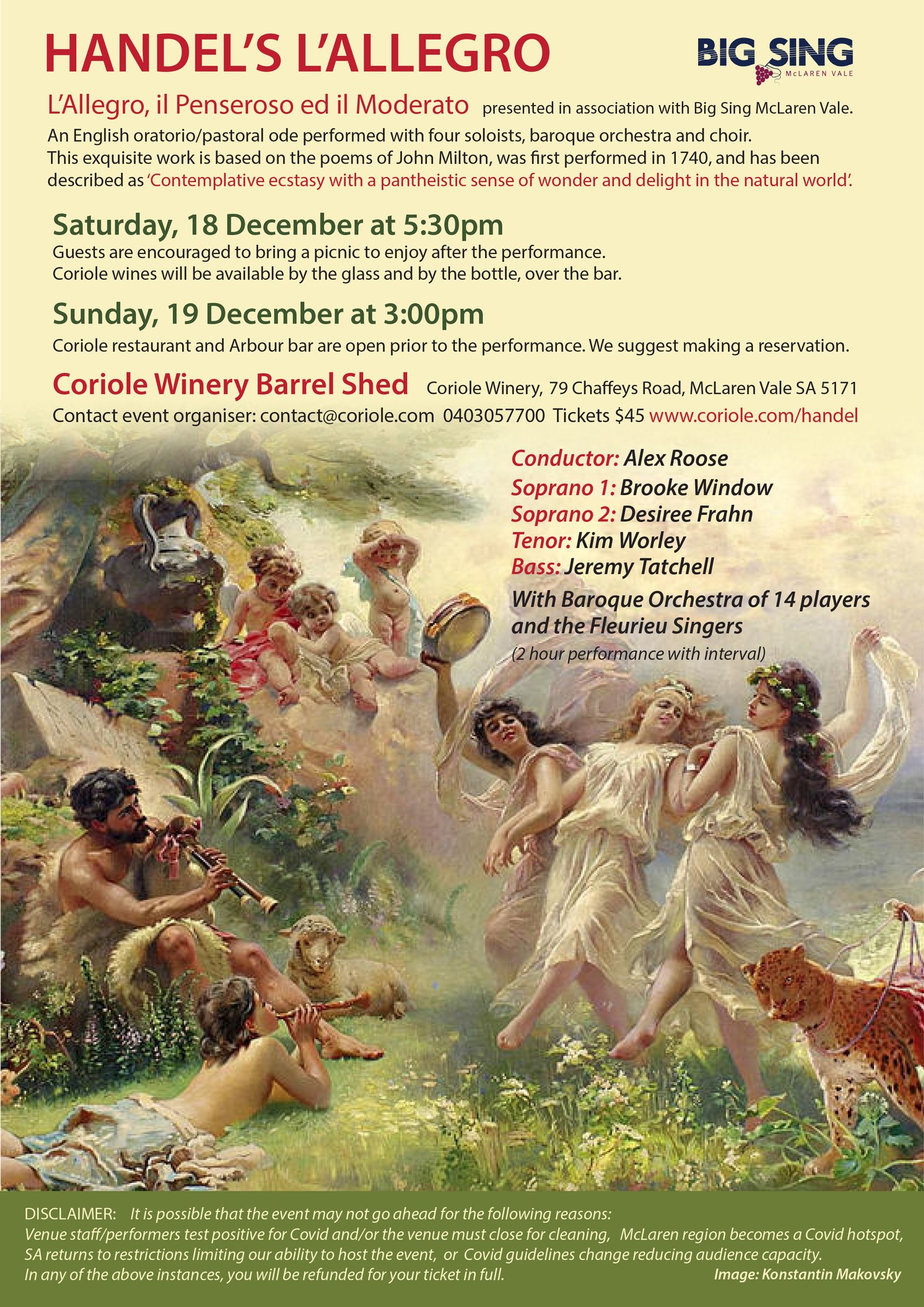 *DISCLAIMER*
The event may not go ahead for the following reasons:
Venue/staff/ performers test positive for Covid and/or the venue must close for cleaning
McLaren Vale region being determined as a Covid hotspot
State returns to restrictions limiting our ability to host the event
Covid guidelines change reducing audience capacity
In any of the instances above you will be refunded for your ticket in full.